Apple Mail to PST converter aka 'Mail Extractor Pro' can convert Apple Mail database directly. No need to backup or export, it will auto load entire database for conversion. Read more details here.
Apple Mail to PST Converter
Changing your service like email client can be stressing on its own, and when you add the data migration on top of that, it can become a nightmare. Apple Mail to Windows Outlook shift is not only involving two different operating systems but also data files and many other variables. This is why many looks for a decent Apple Mail to PST converter to help them along.
Considering you are reading the page titled 'Apple Mail to PST converter,' you know why you need to convert the data to PST. It's because PST is the only file Windows Outlook can import. It is also the file that Mac Outlook can import along with its native OLM format. This means that by converting Apple Mail to PST files, you are free to import the converted data to both Mac and Windows Outlook versions.
The usual approach is through the archived files of Apple Mail called MBOX. You archive everything into MBOX and then find an MBOX to PST converter.
Advanced tool to convert Apple Mail data
Today, we are moving away from that traditional approach and instead bringing something revolutionary and beneficial for everyone. This new model of email migration not only serves top IT experts but also non-experienced home users.
We are talking about an innovative app called Mail Extractor Pro. You can get it today for free as a trial and see for yourself how it works. But if you are totally new to the scene, it will help you to read the following pages to get a better idea of how it works and what is involved.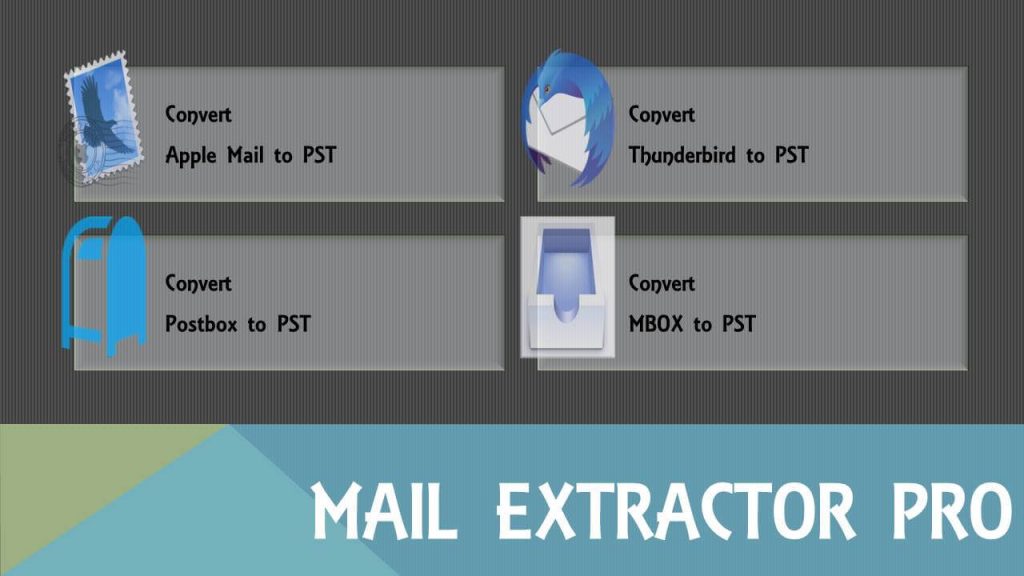 Directly Pick Your Identity Database
Mail Extractor Pro has a calibrated inner framework that adds to the data precision and ensures nothing is left behind on Apple Mail database. And it does so by eliminating the need for MBOX files and instead integrates your Profile or Identity database directly. The app can automatically load the primary Profile or ask you to load any backup database from any location, but it does not need MBOX files.
100% Accurate, No Data Loss
This change not only lessens the burden on you (or archiving emails to MBOX), but also enhances the accuracy. By direct loading of the source rather than archives, you get 100% precision over the integrity of files. MBOX to PST converter is not the worst method to move emails and other items, but it can sometimes lead to certain components missing or the loss of structure (mainly of your folders).
It can convert to pst from:
Apple Mail Database (Auto Load Support)
Apple Mail Mailbox Export
Apple Mail 'Mail' folder copied
Apple Mail MBOX files
Thunderbird Mail Database (Auto Load Support)
Thunderbird 'Profile' folder copied
Postbox Mail Database (Auto Load Support)
Postbox 'Profile' folder copied
MBOX Files (*.mbox)
To use Mail Extractor Pro, all you have to do is launch it and select either 'Auto-load' option or manual option where you merely specify the location of the backup database. Note that it also allows MBOX to PST conversion, for the users who need the traditional file conversion method.
Another benefit of direct conversion is that it automatically picks up all your other folders and items, not just emails. This includes attachments, images, notes, tasks, etc. It is the only tool that promises complete conversion, while also reducing the amount of efforts required.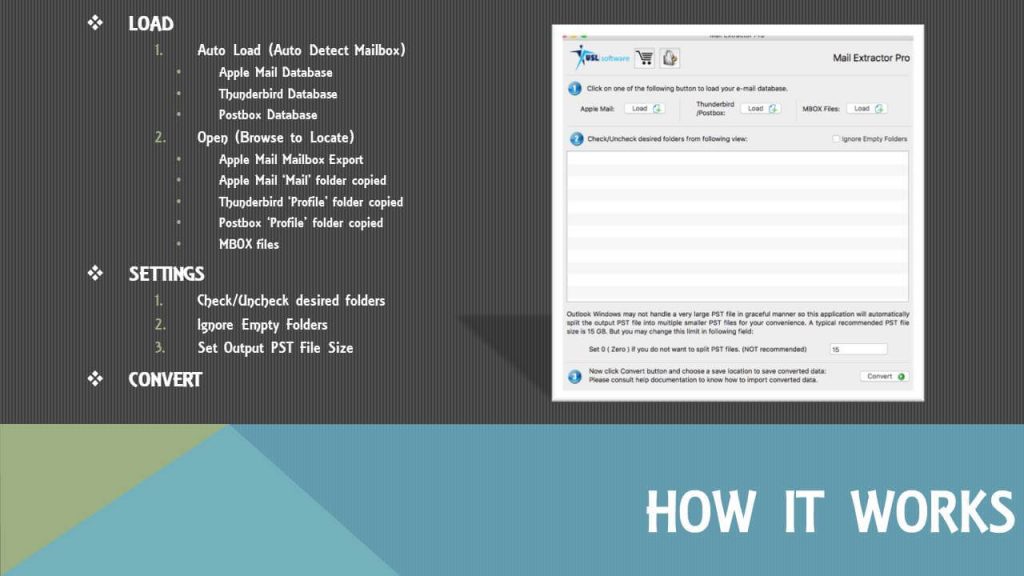 Free Trial to convert Apple Mail to PST
The link here takes you to the official download page of Mail Extractor Pro, the company who built and marketed the app. You can get the installer file and get it up and running in no time. There are no initial configuration settings as with other tools that usually add a needless step on top of an already time-consuming task. You can now let go of all the archaic ways of data migration and adopt a modern, slick, and efficient Apple Mail to PST converter software tool.