MBOX to Outlook Converter for Smart Users Desiring Productivity and Finest Data Accuracy!
MBOX to Outlook Converter for Mac
This is the day and age of productivity. Every thing is getting sped up and less and less time is required to do a certain task. If any thing takes unnecessarly long, it makes a dent in schedule and productivity. Sadly, email migration tasks yet take long to migrate data thoroughly.
MBOX to Outlook conversion tasks may be one of the worst in that regard. Most of the tools and methods available today are sluggishly slow. Smart users do not take that same route of inefficiency.
Secondly, if an MBOX to Outlook converter has acceptable rate of data conversion and can deal with large files quickly, it does not result in complete conversion. This means that many find terrible data loss or some unwanted modification in the structure (like folder hierarchy loss).
Most non-professional and weak solutions cannot find the ideal solution.
If you are one of those smart users who do not want to face the same situation and are looking for better MBOX to Outlook converters than the conventional ones, you came to the right place.
The MBOX to Outlook Converter Tool
'Mail Extractor Pro' is built by professionals at USL Software with many years of experience with email migration. It is the ultimate MBOX to Outlook converter you have been looking for, both in terms of speed and accuracy.
The innovating framework used in 'Mail Extractor Pro' truly works with the database in deeper levels and also enchance the overall time required. The baseline integration of logic-based scripts handle more complex and intricate components that other converters cannot. Such as: graphical content, large attachments, HTML formatted emails, MIME headers, and Unicode text characters.
How It Works In 3 Easy Steps
LOAD

Browse and select MBOX files, the click on "Open".
For Apple Mail, Thunderbird & Postbox you can use 'Auto Load' features.

SETTINGS

Ignore Empty Folders: Check this option, if you want to ignore the empty folders from conversion.
Check/Uncheck Desired Folders: Check Uncheck folders from the preview panel that what you want to convert.
Split PST file: If you have large Mailbox, then you can split your output PST file.

CONVERT

Click on "Convert", then select a folder to save the PST file. Click on "Save" to start the conversion process.
With this tool, you get perfectly balanced combination of quick and accurate.
Some key features
If you are interested, you can right now download the free trial version here. But if you want to know more, you can read the following summarized list of its top features:
Very simple interface, based on minimalistic style but without compromising the functionality.
Can handle large and multiple MBOX files together
Also converts Apple Mail and Thunderbird database directly from the profile/identity
Allows splitting of large PST files. You need to set the maximum size-limit that you think is appropriate. Any file crossing that limit will be split in two smaller ones. That way, it is easier to import them to Outlook.
'Mail Extractor Pro', from USL Software offers all the essentials required to convert MBOX to PST in a truly efficient way. This is what you have been wanting for.
There are several licenses to pick from, depending on the number of computers you need to install it on. There is also home version for individuals.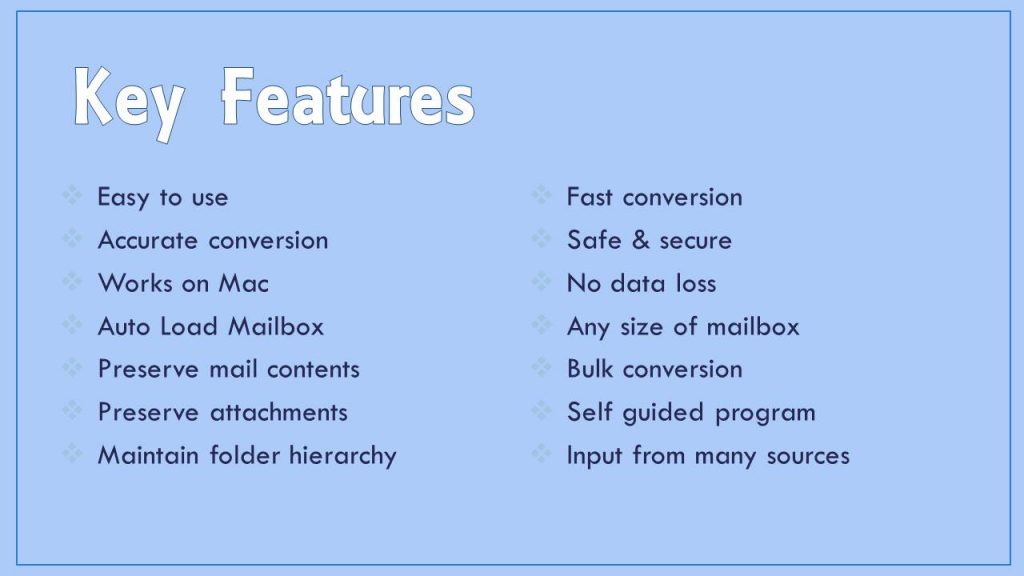 Try the MBOX to Outlook Converter Free
The trial version is only limited in terms of ten items that it converts per folder but gives access to all the other features and is not limited by time. You can freely check it out for as long as you want and evaluate its performance in your own style.